Here is the view of the shop across the street from our flat in Paris' Le Marais district early this morning, the day before Christmas, when I was the first one up and could watch the city come to life with a cup of coffee in one hand and my iPad-provided New York Times in the other: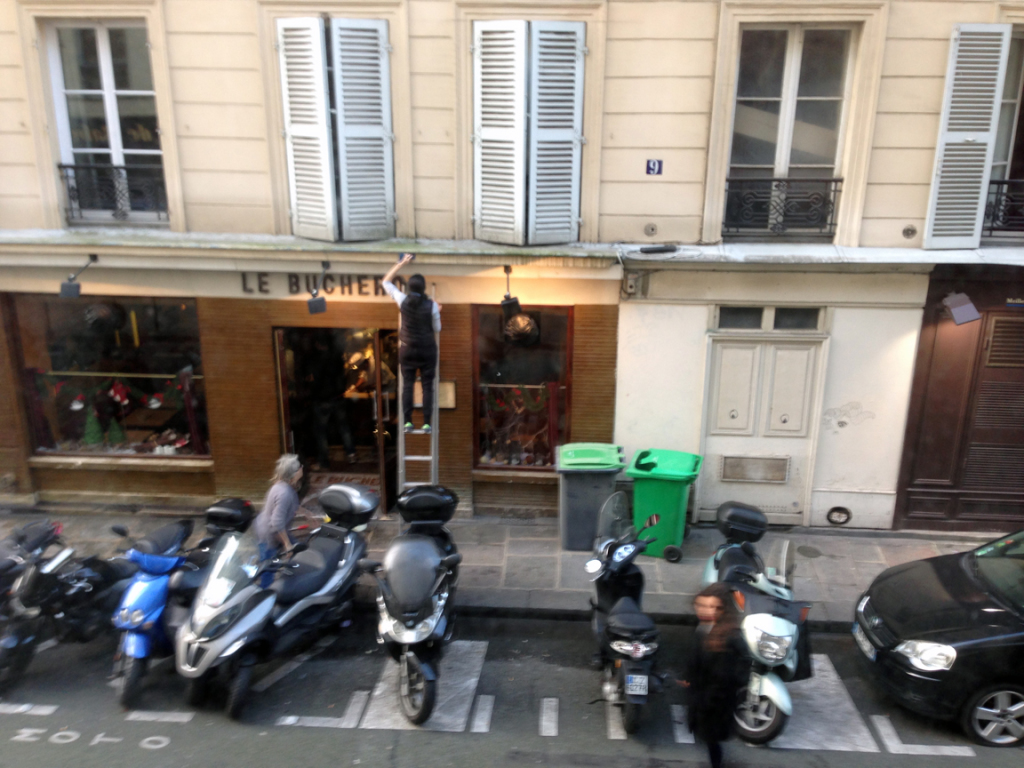 As the white-uniformed chef or assistant arranges food on a tray in the background, the woman on the ladder scrapes dirt and grime from the windows and ledge above the shop.
A commitment to aesthetics — and how that commitment draws a special form of attention from the viewer — defines my experience of Paris this trip.
Summertime, back home in Oregon we have friendly, yummy Farmer's Markets with sumptuous fruits and foods, and if you go to buy tangerines you'll see overflowing boxes of them at every stand.
Here, at a market near the Eiffel Tower that emerged clanging and thumping during our first night at a nearby hotel (before we moved to Le Marais), the December fruits were ripe and wet, the fish was fresh, the breads warm and the cheeses— oh, the cheeses!… but it was the display that moved my heart above my rumbling stomach.
Instead of a random box of tangerines, we saw delicate pyramids. The meats were laid out with loving and artistic precision.
The high incidence of casual beauty in Paris amazes me: the only other place I've seen this is Tokyo. 
(Note: this is not to say that Americans are bad at aesthetics: we aren't. But function and efficiency trump aesthetics in our priorities most of the time.)
For W (my nine-year old son) it's his first trip to Paris. Yesterday the four of us went to Versailles. W and I talked a lot about aesthetics, as well as how Versailles was a remarkably conceited compliment that the French kings paid to themselves, enforcing a way of seeing their power. We haven't had that conversation in the US, or in Vancouver, or in Bergen, or in Amsterdam, or in Krakow.
Paris invites aesthetic attention, almost demands it.
A few years back the Yale psychologist Paul Bloom wrote a remarkable book called "How Pleasure Works," where he showed that how we approach experiences defines our ability to take pleasure in them.
Bloom deploys Gene Weingarten's famous story about how violinist Joshua Bell didn't get a lot of tips when he performed anonymously in the DC Metro — in contrast to his sold out performances at great concert halls — to show how cognitive frames make pleasure possible.
Shakespeare's Hamlet anticipated this four centuries ago when he said, "there is nothing either good or bad, but thinking makes it so."
Paris is one big cognitive frame that flips my aesthetic contemplation switch to the "on" position and keeps it there.
Next stop, taking the children to the Louvre after brunch.
P.S. You can see a TED talk by Paul Bloom about how pleasure works here.